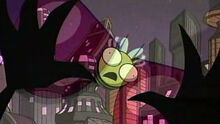 Appearances
A bee crashes into the Voot Cruiser and causes it to crash-land. Zim nicknames it the "Death Bee". Later, the same bee crashes into the Voot Cruiser Recovery Vehicle, causing it to make a crash landing as well.
In this unfinished episode, ZIM would have volunteered at the "Bee a good neighbor" program and worn a bee suit. Dib would have also volunteered at the program to follow ZIM and worn the same bee suit uniform.
This unmade conceptual episode would have dealt with Zim having to eliminate a hive of meat-obsessed bees that have infested his base.
The Kyle Starks variant cover features Zim being surrounded by bees.
When Zim orders the disguised Dib to clean out the honey-coated puppies GIR keeps in his head, he warns him that the honey has attracted bees. A swarm of them then come out and sting Dib.
In the backup comic "Keep It To Yourself", GIR is eating honey, which would appear to be full of bees, as a swarm of them come bursting out of his head, and begin stinging Zim.
Zim mentions that he's taping bees together as part of a plan. An explanation on why is not given.