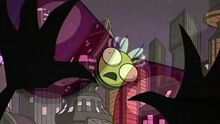 Appearances
A bee crashes into the Voot Cruiser and causes it to crash-land. Zim nicknames it the "Death Bee". Later, the same bee crashes into the Voot Cruiser Recovery Vehicle, causing it to make a crash landing as well.
In this unfinished episode, ZIM would have volunteered at the "Bee a good neighbor" program and worn a bee suit. Dib would have also volunteered at the program to follow ZIM and worn the same bee suit uniform.
This unmade, untitled conceptual episode would have dealt with Zim having to eliminate a hive of meat-obsessed bees that have infested his base.
The Kyle Starks variant cover features Zim being surrounded by bees.
In the backup comic "Keep It To Yourself", GIR is eating honey, which would appear to be full of bees, as a swarm of them come bursting out of his head, and begin stinging Zim.
Ad blocker interference detected!
Wikia is a free-to-use site that makes money from advertising. We have a modified experience for viewers using ad blockers

Wikia is not accessible if you've made further modifications. Remove the custom ad blocker rule(s) and the page will load as expected.