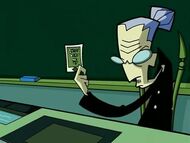 A
Crazy Card
is a small card in
Skool
used to send any student who is deemed insane to the Crazy House. Each classroom would receive three Crazy Cards a month.
Zita
uses a Crazy Card to send
Dib
to an insane asylum, known as the
Crazy House For Boys
. Once a Crazy Card is used, a device called a
Crazy collar
is put on the crazy person's neck. Then, a team of specialists will burst into the Skool, throw the crazy child into the back of their van, and take them to the Crazy House For Boys (or For Girls, depending on the gender of the child). If the child is thought to be crazy by scientists, they will be imprisoned for as long as the rest of their life. Each class only gets 3 crazy cards a month, That is 36 cards a year, or 30 cards a school year, as a school year tends to only be as long as 10 months.
Ad blocker interference detected!
Wikia is a free-to-use site that makes money from advertising. We have a modified experience for viewers using ad blockers

Wikia is not accessible if you've made further modifications. Remove the custom ad blocker rule(s) and the page will load as expected.