"Door to Door" is the 1st segment in the 11th episode of the first season of Invader Zim. It was originally going to premiere on September 14, 2001, however it was delayed. It eventually premiered on March 29, 2002, on Nickelodeon.
Plot Summary
SPOILER WARNING OF DOOM: This section or article may contain spoilers!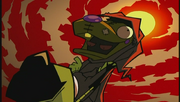 The episode begins with another eerie lesson at Skool by Ms. Bitters, who is making a massive house of cards on Dib's desk and using it as a metaphor for how society is destined to collapse in on itself; unfortunately, when the stack does so, it destroys Dib's desk in the process. Since the Skool's desk budget has currently run out, Dib is forced to use a racoon-infested trash can as a replacement.
Ms. Bitters then sets up a projection screen where the Mascot of Poop Candy, Poop Dawg, tells the kids about a fundraiser they can do for their school, with the prizes including adhesive medical strips, a hovercraft, a helmet, and most importantly, a secret prize. While everyone in the class is mostly impressed, Dib questions the logic in spending the money on prizes instead of proper desks. Zim is also initially unimpressed, and states that the hovercraft is a "joke of engineering", while the helmet is not even immune to laser fire. However, Zim becomes intrigued after Poop Dawg mentions the secret prize, which can only be won when someone sells a ridiculously high number of Poop Candy bars. Zim hopes that the secret prize is a weapon of mass destruction, and becomes obsessed with winning the secret prize.
The next day, all of the Skool kids sell Poop Choco Bars like crazy, much to a man's shock. Dib, however, is proving the most successful at selling, for, as he tells Zim, he can't wait to see the alien fail. At first, Dib proves right as Zim fails to sell more than one Poop bar (partially thanks to GIR eating them all). After a demonic version of Poop Dawg taunts Zim for his failure, Zim, now enraged, releases the full power of Irken persuasion: He forces virtual reality helmets onto his customers, which causes them to see a horrifying alternate future where they didn't buy his chocolate and are now slaves of the Irkens. Petrified, this coerces them into buy Zim's chocolate bars. After a few days, however, Dib's sales are the highest, and as reward, gets a box of adhesive medical strips. However, Zim bursts in, flooding the room with dollar bills, and promptly demands he receive the secret prize. Ms. Bitters then reveals that the secret prize does not exist: It was thought up to encourage kids to sell as many Poop Bars as possible, thus making Poop Dawg extremely rich. As a consolation prize, Zim is given a can of tuna. Zim, furious that he has been tricked, screams in fury, while the demonic version of Poop Dawg seen earlier laughs in the background.
End of Spoilers: There are no further spoilers for this section or article. You can breathe now.
Facts of Doom
Cultural References
Trivia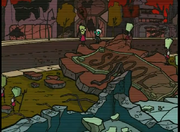 Things You Might Have Missed
Changes and Cuts
Inconsistencies and Animation Errors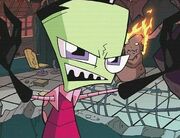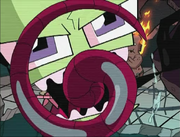 See also
References
External links