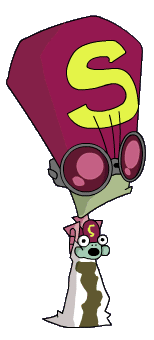 A Fast Food Drone
is an
Irken
service drone who is either hired or forced to work on the intergalactic snacking planet
Foodcourtia
. After
Zim
destroyed
Operation Impending Doom I
, he was banished to Foodcourtia by a
Control Brain
. While banished to Foodcourtia, he had to work for his jailmaster,
Frylord
Sizz-Lorr
, at the restaurant
Shloogorgh's Flavor Monster
. One of Sizz-Lorr's other employees,
Gashloog
, is paid to work there, and gets frequent breaks. Zim, on the other hand, was unpaid, and was not even allowed to leave the restaurant; if he tried to escape, he would explode due to the exploding system Sizz-Lorr installed. However, Zim succeeded in escaping after being swallowed by 
Eric the Blob
, whose fat protected Zim from the system. Somehow, Zim got out of the customer's body and escaped the planet. His
PAK
, however, still displays his status as a Food Service Drone.
Known Fast Food Drones