Because, when you create a giant monster of doom, no matter how cute, you have to... you have to... I don't know.
— Zim
Plot Summary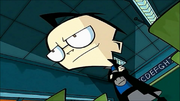 SPOILER WARNING OF DOOM: This section or article may contain spoilers!
While at
Skool
one day,
Ms. Bitters
tells the class that they need a new pet hamster, named
Peepi
, due to the orders of the Skool's board of directors. When the hamster arrives, all of the children love it, attracted by its 'cuteness'.
Zim
decides to exploit this fact, since the hamster could help make the humans too weak to resist him.
Zim plants an Irken device on Peepi that will makes it grow larger while under Zim's control, but instead the hamster grows rampant and breaks free. Zim doesn't worry about this at first, and just lets it go on a psychotic rampage of destruction. However, once Zim's house ends up in the path of Peepi's destruction, Zim decides that the hamster must be stopped.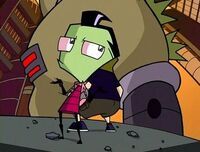 After failing to stop Peepi on his own, Zim enlists the help of Dib and formulates a new plan. Zim gets Peepi to follow his Voot to a Ferris wheel with rockets on it to blast Peepi into space. Unfortunately, the military's meddling causes this plan to fail. Dib tries to prevent the military from interfering again, but they put him in a crazy bucket. As a last resort, Zim attaches rockets to Peepi himself and blasts the hamster back into space. Unbeknownst to everybody, Peepi comes crashing back to Earth and explodes.
End of Spoilers: There are no further spoilers for this section or article. You can breathe now.
Facts of Doom
Cultural References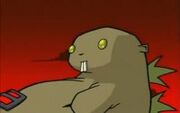 Trivia
Things You Might Have Missed
Inconsistencies and Animation Errors
See also
References