Squood
Homeworld
Irk
Assignment
Unknown
Rank
Invader
Gender
Male
Eye Color
Ruby
Weapons
PAK lasers
Equipment
PAK
Affiliation(s)
Irken Empire
Invader Sqood (Squood) 
is one of the
Irken Invaders
. Very little is known about this character aside from his minor appearance in "
Walk for Your Lives
", in which he proved to be well prepared for Probing Day. His tights are pink instead of the standard black.
Trivia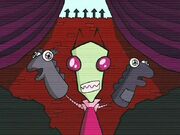 Proper design artwork for Sqood was not available online until Aaron Alexovich compiled a sheet of the Irken Invader concept art for InvaderCon II: DoomCon.  Sqood's name is spelled "Sqood" in the animatic for "Walk for Your Lives" and on the "List of Invaders" included with the Palisades Tallest Red action figure, but is spelled "Squood" on the concept art.  It is unclear which spelling is actually correct.
Invader Sqood appears in the episode "Walk for Your Lives".  He is shown performing a proper puppet show on Probing Day after the failure and pummeling of Invader Slacks.  It is often incorrectly assumed that the successful puppet show is also being performed by Invader Slacks, after removing his large nostril disguise (and apparently changing to an unstriped shirt).  But Slacks already failed and was pummeled with no reason to attempt again until the next Probing Day.
Ad blocker interference detected!
Wikia is a free-to-use site that makes money from advertising. We have a modified experience for viewers using ad blockers

Wikia is not accessible if you've made further modifications. Remove the custom ad blocker rule(s) and the page will load as expected.