---
We currently have 726 articles about Earth's impending doom.

Would you like to help Invader ZIM get back on air?
Then visit any or all of these links!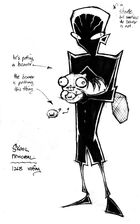 The
Skool Principal
is the current principal of the
Skool
. He was first heard speaking on the phone to
Ms. Bitters
in the episode
Tak: The Hideous New Girl
, where he made loud pig sounds to an outraged Bitters. He also made a larger appearance in the episode
The Voting of the Doomed
, but only as a silhouette. He brainwashed
Willy
to make it so that he would not complain about the terrible conditions of the Skool, namely the dirty bathrooms.

"Somebody needs a huuuuug!"
Affiliated Wikis
Ad blocker interference detected!
Wikia is a free-to-use site that makes money from advertising. We have a modified experience for viewers using ad blockers

Wikia is not accessible if you've made further modifications. Remove the custom ad blocker rule(s) and the page will load as expected.