---
We currently have 803 articles about Earth's impending doom.

Would you like to help Invader ZIM get back on air as a full fledged animated TV series again?
Then visit any or all of these links!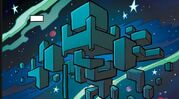 Moo-Ping 10
is a private space prison operated by the
Gellaxis
race. While first mentioned in
Issue 1
, it doesn't actually appear until
Issue 34
.

Let it be known that from this day, until the end of the day, vengeance will be mine. Dib, you will not know the meaning of peace, for I shall rain misery down upon your pizza-stealing heart!
— Gaz Membrane, Battle-Dib
Affiliated Wikis

Are you excited for Invader ZIM: Enter the Florpus?