---
We currently have 798 articles about Earth's impending doom.

Would you like to help Invader ZIM get back on air as a full fledged animated TV series again?
Then visit any or all of these links!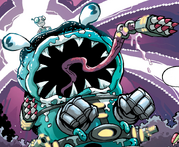 The
Battleslug 7000
is a creature created by
Zim
when he mutates
GIR's
newly bought alien slug into a giant, and then augments it with weapons. It makes its only appearance in
Issue 7
.

Affiliated Wikis

Are you excited for Invader ZIM: Enter the Florpus?