---
We currently have 760 articles about Earth's impending doom.

Would you like to help Invader ZIM get back on air as a full fledged animated TV series again?
Then visit any or all of these links!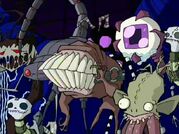 The
Halloweenies
are a race of beings from the
Nightmare Realm
which exists inside
Dib
's mind. They make their only appearance in "
Halloween Spectacular of Spooky Doom
".

Affiliated Wikis