---
We currently have 786 articles about Earth's impending doom.

Would you like to help Invader ZIM get back on air as a full fledged animated TV series again?
Then visit any or all of these links!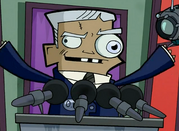 President Man
is the President of America in the
Invader Zim
universe, who first appears in "
The Girl Who Cried Gnome
". He's an apparent parody of US President George W. Bush.

Affiliated Wikis

Are you excited for Invader ZIM: Enter the Florpus?