---
We currently have 751 articles about Earth's impending doom.

Would you like to help Invader ZIM get back on air as a full fledged animated TV series again?
Then visit any or all of these links!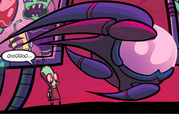 The
Zhook Cruiser
is a top of the line ship used by the
Irken Empire
. It is first seen in
Issue 18
when one is gifted to
Invader Larb
.

Shut up!; No! Not you guys. It's my brother. Yeah. Yeah with the face.
— Gaz, Issue 5
Affiliated Wikis