---
We currently have 754 articles about Earth's impending doom.

Would you like to help Invader ZIM get back on air as a full fledged animated TV series again?
Then visit any or all of these links!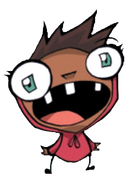 Recap Kid is a character created for the
Invader Zim comic series
. Their role is to appear at the beginning of each issue and recap the previous issue.

I'm human! Yep, human, human, human. Just look at my neck!
— Zim, Abducted
Affiliated Wikis