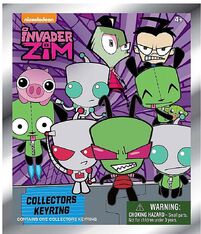 Invader Zim Figural Keychains
are collectible keychains released in February 2017. They come in blind bags, and there are a total of 11 different figures to collect. They are two inches tall and made out of foam.
Summary
Invader Zim figural keyring blind bags are here! Collect them all! Which one will you get? GIR, Zim, Pig or perhaps one of the two exclusive chase figures? It's a surprise![1]
Figures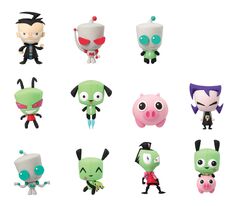 A box of Invader Zim Figural Keychains comes with 24 blind bags. There are only 11 available figures, so there will be duplicates of some figures, except for the rare chase designs.[2] The available figures are:
Duty Mode GIR
GIR in Disguise
GIR in Dog Suit (flying with turbo boosters)
GIR with Stuffed Monkey
Zim in Disguise
Pig
Gaz (rare chase design)
GIR with Pig (rare chase design)
References