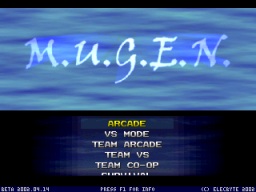 M.U.G.E.N. is a freeware 2D fighting game engine designed by Elecbyte, written in C with the Allegro library. The engine allows anyone to create characters, background stages and other game objects through interpreted text files, graphics, and sound compilations. It supports various types of audio formats such as MP3 and MIDI initially, although it can be configured to play various audio formats via Winamp plugins, such as ADX and OGG, as background music during gameplay or at other points such as an introduction or the select screen. The engine allows for most of the same type of functionality found in most any commercial 2D fighting games, up to and including close recreation of those games' characters and gameplay.
Gameplay
The engine uses 7 buttons for gameplay along with the directional keys, in order to accommodate six-button fighters, which use three punches, three kicks, and a taunt. However, characters do not necessarily use all seven buttons, nor need to follow a traditional six- or four-button format. At most, two players can control characters, with others controlled by the engine's AI; including a demo mode where the computer controls all characters. In addition, several gameplay modes are available via the main menu.
Trivia
WlanmaniaX made both Zim and Dib for M.U.G.E.N.
Invader Zim in M.U.G.E.N.
Since release, some characters and stages were created. That includes Invader Zim-related characters and Invader Zim stages.
Videos
Ad blocker interference detected!
Wikia is a free-to-use site that makes money from advertising. We have a modified experience for viewers using ad blockers

Wikia is not accessible if you've made further modifications. Remove the custom ad blocker rule(s) and the page will load as expected.