---
We currently have 726 articles about Earth's impending doom.

Would you like to help Invader ZIM get back on air as a full fledged animated TV series again?
Then visit any or all of these links!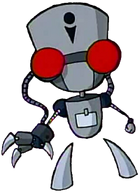 MiMi
is an upgraded
SIR Unit
that belongs to
Tak
. Built out of scrap on the planet
Dirt
, MiMi is more advanced than other Invaders' SIR units, and is more capable than most others as well. She made her first appearance along with her master Tak in the episode
Tak: The Hideous New Girl
.

HAIL ZIM, BURRITO KING! He who controls the burritos, controls the BURRITOVERSE!
— Zim, Issue 18
Affiliated Wikis
Ad blocker interference detected!
Wikia is a free-to-use site that makes money from advertising. We have a modified experience for viewers using ad blockers

Wikia is not accessible if you've made further modifications. Remove the custom ad blocker rule(s) and the page will load as expected.