---
We currently have 756 articles about Earth's impending doom.

Would you like to help Invader ZIM get back on air as a full fledged animated TV series again?
Then visit any or all of these links!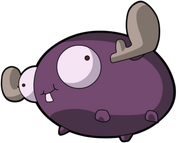 Minimoose is a robot minion created by
Zim
in the episode "
Nubs of Doom
" (though as that episode was cancelled, technically his first appearance is in "
The Most Horrible X-Mas Ever
" instead). Zim created him to replace
GIR
, but ultimately considered him a failure. Since then, he's been mostly a background and minor character.

Affiliated Wikis