---
We currently have 775 articles about Earth's impending doom.

Would you like to help Invader ZIM get back on air as a full fledged animated TV series again?
Then visit any or all of these links!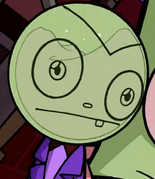 Pustulio is the name that
Zim
gives to the zit he gains after his face is heavily coated in grease. Upon learning that it has hypnotic abilities, he disguises it as a person to take it to
Skool
with him. It only appears in "
Rise of the Zitboy
".

Affiliated Wikis

Are you excited for the Invader ZIM movie?