Moofy
Homeworld
Earth
Rank
Girly Ranger
Gender
Female
Equipment
Chocolate Ninja Star Cookies
Helmet
Hair Color
Strawberry-Blond
Eye Color
Orange
Affiliation(s)
Earth
Girly Rangers
Moofy is a Girly Ranger that goes around asking, and often even forcing, people to buy chocolate ninja star cookies. This seems to be the normality amongst Girly Rangers. She is voiced by Eliza Schneider. Moofy makes her first and only appearance in the episode "The Girl Who Cried Gnome", in which she gets stuck in Zim's front yard and attracts a large crowd. She intended to stay there forever because she liked the attention she was getting from the media. She is ultimately yanked from her perch by a frustrated Zim and is carted away in an ambulance.
Appearance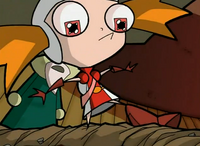 Moofy is a small, young girl with strawberry-blond hair tied in pigtails and large glimmering orange eyes. She wears a reddish orange-themed Girly Rangers uniform, with an ample pair of maroon boots and a white and dark orange girly rangers helmet with the standard "G" printed on it.
Personality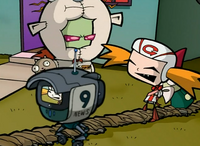 Moofy appears to be emotionally unstable, but this is due to her being a very spoiled young girl; she goes to extreme measures to get people to buy her cookies, and doesn't take "no" for an answer. Her screams of despair were so loud that they could be heard by the Almighty Tallest, and the frequency of them even blew up a few ships in the Irken Armada. She also likes attention, as she refused to leave Zim's lawn because of the large amount of attention she was getting from the media.
Role in Invader Zim
Her only role was a major role in "The Girl Who Cried Gnome", where she gets trapped in a hole Zim's Robot Gopher created and ended up attracting a crowd of thousands to Zim's doorstep. People try to help her out, however she resists because she likes the attention from the media and wants to be on TV forever. She is eventually pulled out from behind by a frustrated Zim.
Gallery
Ad blocker interference detected!
Wikia is a free-to-use site that makes money from advertising. We have a modified experience for viewers using ad blockers

Wikia is not accessible if you've made further modifications. Remove the custom ad blocker rule(s) and the page will load as expected.