For the character in the episode of the same name, see Mortos der Soulstealer (character).
You ditched me!
— Dib
Plot Summary
SPOILER WARNING OF DOOM: This section or article may contain spoilers!
A powerful and mystical being called Mortos der Soulstealer, who is released from the underworld every thousand years when the planet Taoola lines up with Chargunga, appears in an abandoned graveyard. However, Dib knew in advance about this event and is there waiting for the demon-warlock. Since Mortos must grant one mortal a wish in order to return home, Dib asks Mortos to grant his wish, and steal Zim's soul. But because Mortos is so tired, Dib has to help him recharge. This means buying lots of food for the demon-warlock at MacMeaties, buying rubber clothing, and then ditching Dib and going to the carnival.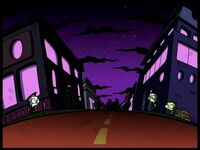 While Dib is looking for Mortos, he bumps into Zim and GIR, who are walking around the city and infecting it with mutated vermin by throwing them into houses. Dib boasts to the alien that he is going to stop him with a secret weapon, but because Mortos isn't around, Zim laughs it off as GIR launches a sandwich at him, knocking him into a building.
When Dib gets up, he finds Mortos at the carnival and yells at him for ditching him. Mortos makes up a sob story for why he ditched him, so finally, Dib gets fed up with Mortos and calls him a mooch. This insults Mortos, so he makes the carnival rides come to life and start fighting each other to prove that he truly is scary and isn't taking advantage of Dib. Dib's faith in the demon-warlock is restored, and he is once again excited to get his wish granted.
Unfortunately, Mortos's power is completely drained again. This time Dib takes him to a dog store, but the man working there yells at them for loitering and calls the police. When Zim walks past with GIR, Dib tries to get Mortos to hurry up, but the demon-warlock is distracted by a soda fountain. Dib decides to take matters into his own hands, and tries to hold Zim down while Mortos finishes his soda. When at last he is fully recharged, Dib isn't even paying attention because he's too busy fighting Zim. A random man walks past and wishes for ice cream, and Mortos overhears him and grants his wish. Now that Mortos has granted a wish and his powers are all gone, Dib is paying attention again, but he is too late. As the random man tastes his ice cream, he finds it has raisins and throws it away. Mortos disappears back to the underworld, Zim and GIR go home, and Dib gets arrested for loitering in a pet store.
End of Spoilers: There are no further spoilers for this section or article. You can breathe now.
Facts of Doom
Cultural References
Trivia
Things You Might Have Missed
Animation Errors
See Also
Mortos der Soulstealer (Transcript)
External links
Cite error: <ref> tags exist, but no <references/> tag was found