NASAPlace
is a parody of NASA, National Aeronautics and Space Administration or the National Aeronautics and Space Agency Place. It was featured in the episode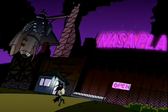 Battle of the Planets
and was also mentioned in
Germs
.
Dib apparently has visited this location many times, and the director is annoyed by his insane ravings about the end of the world. The guards there also know about Dib and disregard him as well.
It was revealed in Battle of the Planets that Agent Darkbootie works there as a janitor when he helps Dib fly into outer space.
Ad blocker interference detected!
Wikia is a free-to-use site that makes money from advertising. We have a modified experience for viewers using ad blockers

Wikia is not accessible if you've made further modifications. Remove the custom ad blocker rule(s) and the page will load as expected.