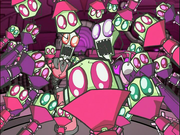 Navigator is among the many positions in the Irken military. It is the navigators' jobs to pilot ships and other vehicles in the Irken Armada. Multiple navigators are often needed to fly larger ships like The Massive.
Navigators are seen with several eye colors, mainly red and green. They are among the few Irkens shown with green eyes.
All pilots are shown wearing a uniform with a very high collar going over the mouth and what appears like earphones.
Appearances in Invader ZIM
They first appeared in the "The Nightmare Begins", on board the mech that Zim was using to wreak havoc... unwittingly on his own planet, as one of the Navigators tried and failed to point out.
They were later seen in the episode "Backseat Drivers from Beyond the Stars", operating the Massive.
Ad blocker interference detected!
Wikia is a free-to-use site that makes money from advertising. We have a modified experience for viewers using ad blockers

Wikia is not accessible if you've made further modifications. Remove the custom ad blocker rule(s) and the page will load as expected.