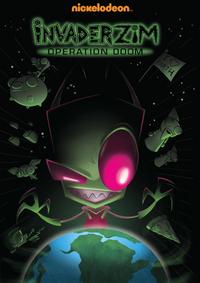 Operation Doom is a DVD that came out February 22, 2011, featuring 13 of the top-rated episodes of Invader ZIM on one disc. It is supported by "Operation Head Pigeons 2.0", a Facebook-centered Invader ZIM revival movement. The DVD was released within a few months after the Operation's holiday greeting card mailing campaign.
The DVD is available for order on Hot Topic's website. It is also available at Amazon. After reaching #1 in sales in the Nickelodeon section of Amazon, Operation Doom hit #35 in the ranking of all DVD's, just above the then-latest release of Doctor Who. Other stores selling the DVD are Walmart, Target, and Best Buy. Operation Doom is $16.99.
Nickelodeon has yet to make any statements regarding the surge of fan interest.
Later in 2011, Operation Doom began selling at Barnes and Noble.
The episodes on the DVD are:
Facts of Doom
Image Gallery