Rosearik Rikki Simons
Talk

0
617pages on
this wiki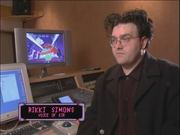 Rosearik Rikki Simons
provided the voice for
GIR
as well as
Bloaty
and numerous background characters in
Invader ZIM
. His voice for GIR was edited digitally, because his voice could not reach GIR's pitch. At OMGCon 2010, however, he stated that he eventually learned how to do the voice on his own and that about half of the series

was done without pitch editing, although the necessary digital addition of making his voice metallic remained. Simons was also the only member of the four main voice actors to work on artistic aspects of the show, doing a large portion of coloring for episodes such as
Mortos der Soulstealer
.
Rosearik Rikki Simons is a good friend of Jhonen Vasquez, and has assisted him in many projects, like coloring in a comic called I Feel Sick, that Jhonen wrote. He has also done numerous original projects, some of which he works on with his wife, Tavisha.
Simons was one of five guests at the 2011 InvaderCON.
Facts of Doom
Trivia of Doom
Even though Simons voiced GIR in the series in general and the pilot, he provided a different and lower pitched voice for GIR in the pilot.