Sizz-Lorr
Talk

4
611pages on
this wiki
Sizz-Lorr is a Frylord who owns a restaurant called Shloogorgh's Flavor Monster on the planet Foodcourtia. It is unknown if he came to work here willingly or was like Zim. When Zim was banished, the guards delivered him to Sizz-lorr and the frylord immediately started giving him difficult, and unenjoyable, jobs to do. In general, he did his best to make Zim's life miserable. When Zim escaped from Foodcourtia before a huge event on the planet known as The Great Foodening, Sizz-Lorr was left alone to do all the work. Sizz-Lorr became enraged and vowed that he would hunt him down and would not rest until he was returned to Foodcourtia. Sizz-Lorr's hatred for Zim only worsened when the Foodening began and Zim's disappearance left him shorthanded. After the Foodening ended, Sizz-lorr began his search and eventually located Zim on Earth, kidnapped him, and took him back to Foodcourtia. What happened afterwards is shown in the episode The Frycook What Came from All That Space.
Once Zim was back, Sizz-Lorr once again put him to work, starting with cleaning Booth Twelve, which Sizz-Lorr had kept dirty all those years just for Zim. To make sure that Zim didn't try and escape again, Sizz-Lorr installed a security system that would make Zim explode if he tried to leave. The Foodening was going to begin again soon, so Sizz-Lorr decided to take a vacation, leaving Zim in charge and stuck on the planet for twenty years.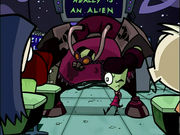 The thought of being stuck on Foodcourtia made Zim desperate, and despite the security system he managed to escape. When Sizz-Lorr found out, he went chasing after Zim, determined to keep him from leaving the planet. Unfortunately, it didn't work and Zim escaped, forcing Sizz-Lorr to endure another Foodening on Foodcourtia. Not much is known about what happened to Sizz-Lorr after this.
Personality
Edit

Sizz-Lorr is capable of holding onto a grudge for years on end, seeking revenge on Zim for over twenty years. Although, as an Irken, this may be a short amount of time due to their long life span, and the time warps on their planet. However, it is safe to say that he enjoys making Zim miserable.
He seems to be taller than the Tallest, although only Irkens that have served in the military are eligible to become Tallest, regardless of height.
He is one of the few Irkens seen to have purple eyes.
His name is based on the Sizzler restaurant chain.
When Sizz-Lorr stands underneath the Shloogorg's Flavor Monster sign, it comes down on him, replacing his frycook's outfit with spiked battle gear... complete with a giant spatula.
In the beginning of the episode, during Zim's flashback, when Sizz-Lorr enters to find Zim gone, his eyes momentarily flash red instead of purple.
Sizz-Lorr makes a non-playable appearance on a collectible card in Nicktoons: MLB; the information on his card reveals that he wants to franchise Shloogorgh's Flavor Monster in every baseball stadium, including the real-life ones.