Smikka Smikka Smoodoo
Talk

0
611pages on
this wiki
Smikka Smikka Smoodoo
Name
Smikka Smikka Smoodoo
Smikka Smikka Smoodoo is a rebellious slave worker of the Screwhead race.
Appearance
Edit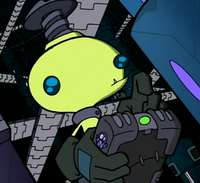 Smikka is a slim specimen, and his uniform consists of an electric collar, oversized gloves, and what appears to be a large loincloth or jacket. Like the rest of his race, he has yellow skin, solid blue eyes, small, rounded teeth, a gap in his upper lip, and - of course - a large screw-shaped structure in his cranium.
Personality
Edit
Smikka bears a large amount of pride for his race, and is enragred that they were forced into servitude by the Irken Empire. So great is his hatred that he has even attempted to revolt against the Irken Empire. He talks to himself often.
Role in Invader ZimEdit
During his one and only appearance in Megadoomer, in an act of revenge against his Irken slave masters, Smikka Smikka Smoodoo switched the addresses on two packages; this resulted in Zim receiving a Megadoomer, while Invader Tenn got a box full of malfunctioning SIR Units.
His actions would have most likely set the stage for the series finale Invader Dib, but Invader ZIM was cancelled before the episode could even be scripted or finalized. Several plots were discussed behind closed doors; one of these had Zim and Gaz (cloaked in a hood to hide her identity) teaming up to put an end to the carnage and being crowned Irk's new rulers soon after, banishing Dib, Tak and their forces to planet Saturn and deposing the previous Tallest, Almighty Tallest Red and Almighty Tallest Purple, from the throne. As Zim would spare Earth from the Irkens' wrath, realizing its beauty, he would most likely have made all the other conquered planets go free as well, including Smikka's, in a domino effect.