My characters
---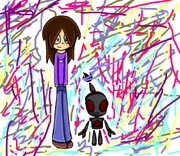 Name: Van
Full Name: Vanessa Droffin
Race: Human
Gender: Female
Skin: Pale Brown
Home Planet: Earth
Age: 12
Eye Color: Blueish Purple
Personality: Fun ,Curious, Easily scared.
S.I.R. Unit
Name: GAN
Eye Color: Dark Red
Gender: Female
Metal Colour: Dark Grey
Personality: Gan is a regular SIR unit that is modified to transform into the first thing they see when turned on.
Disguise
Animal: Young Dolf * Dog-wolf hybird *
Eye color: Green
Color: Grey
Collar: Collar that "Translates" from Dolf to human language
---
Name: Sam
Full name: Samantha Lenkin
Race: Lenkin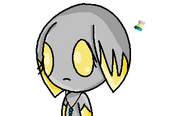 Life stage: Lenkin (Life stages are: Egg,Lenkling,Lenkin,Senior Lenkin, and Retired Lenkin.
Rank: Planet Rescuer (Ranks are: No Rank, Irken Spy,Planet Searcher, Planet Rescuer, Leader-in-Training, Leader's mate, and Leader.
Information about Race: Lenkins are aliens that search for planets in the danger of being invaded.If the succeed,they send the Irken back to Irk.
Backstory: Sam landed on earth a week after Zim.She found his School and disguised herself,then entered the school.She knew who it was as soon as she saw him and is currently working with Dib to try to expose him.
Skin: Grey
Highlights: Yellow-gold
Personality: Determed, and Friendly -Only to Dib and family-
Eye Color ; Yellow.
Disguise
Hair colour: Blond
Eye color: Green
Hair Length: Medium.
Skin: Light.
NOTE: Lenkins are my own Race, do not use them without me knowing.