WELCOME
Invader Xena
Name: Xena
Gender: Female
Species: Irken
Skin color: Pale green
Eye color: Bright purple
Home planet: Irk
SIR Unit: Lulu
Age: 16 Irken years (like Zim <3)
Lulu
Name: Lulu
Gender: Female
Disguise: Smoky dark raven
Master: Xena
Size: About half the size of Xena
Unit: SIR
Personality: She is extremely loyal and will work hard to obey her master.
(Invader Xena made Lulu)
Thoughts On Friends
Edit
(If you'd like to be added to my friend's list, messege me on my talk page!)
Gato: A great user that always wants to improve the wiki!
Iloveyoucoldunfealingrobotarm: An epic user that I met when we were both new to the wiki.
Teneery: She has so many edits and is ranked one on the wiki!
Magic8ball8: A fun gal that joined BGH.
InvaderMEEN: A very helpful user!
Invader777: I helped this user make a customized signature.
D.Skitty: A TOTALLY AWESOME FRIEND THAT I WANNA HUG TO DEATH!
(BGH WILL NO LONGER HOLD MEETINGS)
I am the founder of the BGHs (Bloody Gir Hunters). My co-founder is Eli. We made this group because we were so interested in Bloody Gir. Basically, the group confirms and uncofirms sightings of Bloody Gir. We also find new ones. I have a few blog posts on BGH. If you'd like more info, just messege me on my talk page. If you'd like to join, take the test, which is right below. When your done with the test, messege me your answers like this:
1) -your answer here-
2) -your answer here-
3) -your answer here-
BGH test
Edit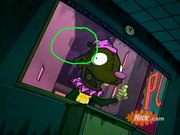 1)Is that Bloody Gir? ( In the pic )
2)Where was Bloody Gir suppose to appear? Which episode?
3) Is Bloody Gir a still image or can he move?
( These questions are easy XD )
BGH members
Edit
ME (Obviously)
Invader Eli
Magic8ball8
Customized Signatures
Edit
I'd love to help anyone who wants a customzied signature! Just messege me the details on my talk page and I'll make it right away. If you want more info on signatures, just ask me on my talk page. An example of one is my own signature!
First of all, I'd love for this wiki to have a chat on the IRC! The IRC is not made for wikia, but many wikis have channels on the IRC. If the Zim Wiki does make a channel on the IRC, it should be called #wikia-zim because the channel is about the Zim Wiki. And, other wikis have that as their channel name, except for the zim part. I've been on the IRC for about a year and if I had the chance to make the chat, I would. You know, we should hold a vote on who should make the chat channel. Anyways, if you agree with me messege me on my talk page! THANKS!
Become a rollbacker at least
My DeviantART
Edit
I just created a dA :) My username is Invader-Xena! If you have a dA, please add me to your watch list and friend list! Messege me on my talk page your dA!
Groups I'm in: -none at the moment-