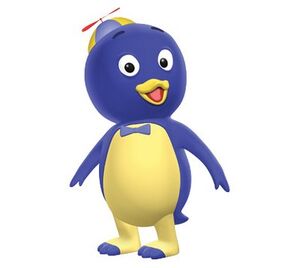 Sandra Cheeks, the Creator of The Backyardigans Wiki
The Backyardigans Wiki | Blue's Clues Wiki | AAAHH!!! Real Monsters Wiki | ZIM Wiki | Rugrats Wiki
Hi, I'm Sandra Cheeks, the main admin here on Backyardigans Wiki. I am very experienced on Wikia, as I registered years ago. I think Wikia is a great creation since it gives me things to do in my free time as well as inform me about many different topics.
I always keep an eye out for vandals, especially on my top wikis. I think that vandals shouldn't exist as their edits have no point whatsoever.
I'm usually editing here and on Blue's Clues Wiki (located at http://bluesclues.wikia.com). I also edit AAAHH!!! Real Monsters Wiki, Rugrats Wiki, and here occasionally. I am friends with Squidward Tentacles and Babysitter SpongeBob as well as many other Wikians and enjoy informing them about new wikis.