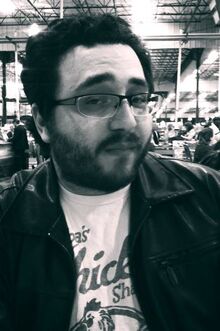 Greetings and salutations—my name is Thor. The net over I am known as Somarinoa and formerly Gokou-sama (at the turn of the century for oekaki and on my still-current deviantArt page). I am 29 years old and am Alaskan born and raised. I originally was born in Ninilchik but now reside in Alaska's biggest city, Anchorage.

I am the founder of Creativity Wiki, being a firm believer in imagination, as well as the founder of Extraterrestrial Fanon Wiki as a sister site to ASW. I am also known as ~gokou-sama on deviantART. I am the bureaucrat of Alien Species Wiki after having brought it back single-handedly from death in 2006 until people took notice and turned it into a thriving wikia as well as on Super DBZ Fanon, and serve as an administrator on Cryptid Wiki, Egyptian Fanon, Mega Man Fanon, Ultimate Showdown (a fan-created wiki intended for a trio of my games, though not for everything I've has created) and Ultra Dragon Ball. I am also a moderator on Sagan 4, a chat moderator & rollback on Bulletstorm Wiki, a rollback on Supreme Dragon Ball Wiki and Might & Magic Wiki; I was the main content contributor to SporeWiki and have significantly helped out Conker Wiki and Zim Wiki in the past. I am also a bit of a grammar Nazi.

I believe in linking back to the original wikipedia for articles if the subject is something that I tend to feel people may not fully understand or know a lot about off-handedly. That will likely occur here as well, on occasion. That being said, I'm am here mostly to help fix typos and garner me some badges while I'm at it.

I consider myself an amateur scientist, mainly following biology, astronomy, and paleontology, though I can also be considered a minor follower of cryptozoology.

My interests include making movies, my wide humor range, making video games, playing video & computer games, ghost-hunting, UFO-hunting, and my writings and drawings. I am a lead investigator of APRI (Alaska Paranormal Research & Investigation), working in intuitiveness, energy transferences.

As a bit of a nonconformist, I refused to get into Invader ZIM for a number of years (as the oekaki boards I frequented during the time it was out were constantly filled with pictures of GIR, which at the time drove me a bit batty), finally being forced to watch it perhaps 4 years after it first premiered; I instantly was addicted to it, and watched it religiously for a couple of years before I lost my television.
Current Badge Progress
Edit
A section for others to see how I am progressing through the badges, should they care to view it.
Encoded PAK: 1/5
Art Lover: 39/50
Control Brain: 687/1000
Someone needs a hug!: 0/1
Opinionator: 1/3
My favorite pages
Edit