Zim's Orbital Water Balloon
Name
Zim's Orbital Water Balloon
Type
Irken Technology
Use(s)
Offensive
First Appearance
The Wettening
Users
Zim
Zim's Orbital Water Balloon was a colossal water balloon created and used by Zim in The Wettening to win a water fight against Dib.
Description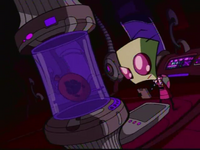 The Orbital Water Balloon was inspired by Dib when he threw a water balloon at Zim, greatly angering him. Having gained access to Dib's " water balloon technology", Zim spent the next several days experimenting and developing the balloon within his base. Once the Water Balloon was completed, it appeared to be flat, elastic, maroon-colored material with a giant smiling face printed on it. When inflated, the water balloon is at least three times the size of the Skool, and caused a humongous shockwave across the city upon impact, flooding the entire area as a result.
When used, Zim had the balloon suspended in space and drained a tremendous amount of water from the city out of orbit in order to fill the balloon. Controlling giant robotic hands via remote control, Zim tied the balloon shut and allowed it to drop back into the atmosphere, flooding the entire city from his space station. Zim can also lock a target to fire the balloon directly at, as seen when he aimed specifically at Dib's forehead. The balloon destroyed most structures, including the upper section of Zim's base. In order for the water to not harm himself, Zim had coated himself in paste beforehand.
See Also
Ad blocker interference detected!
Wikia is a free-to-use site that makes money from advertising. We have a modified experience for viewers using ad blockers

Wikia is not accessible if you've made further modifications. Remove the custom ad blocker rule(s) and the page will load as expected.